Calling all art lovers – Texas is serving up an impressive collection of outdoor art. In the past, outdoor sculptures served a religious purpose more than anything, but we've expanded the meaning behind it and have snapped some pics with some major gram-worthy murals. Grab a map and follow along as we take you across our great state to check out some of the Best Outdoor Art in Texas.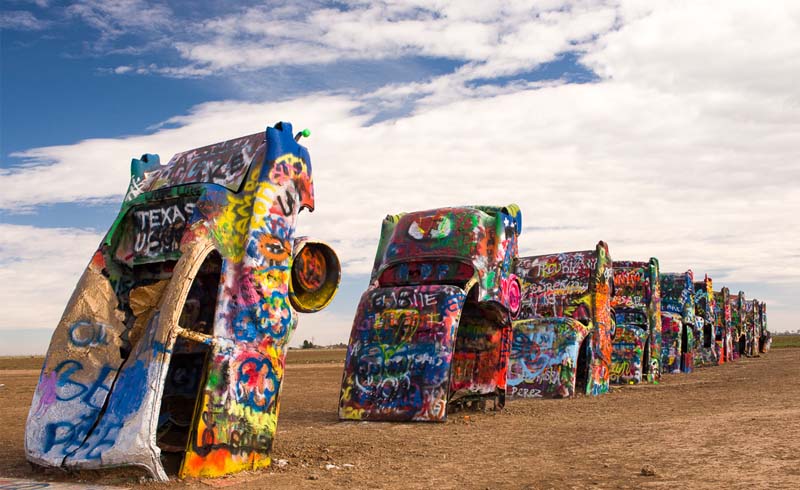 Amarillo – Cadillac Ranch
Along Amarillo's historic Route 66, you can spot ten half-buried, graffitied Cadillac sedans on Cadillac Ranch. Created by Chip Lord, Hudson Marquez and Doug Michaels back in 1974, these ever-changing Cadillacs have been featured in everything from a Vogue photo shoot to an episode of King of the Hill. Feel free to add your signature artwork on any one of these sedans with a can of spray paint – surprisingly enough, it's encouraged!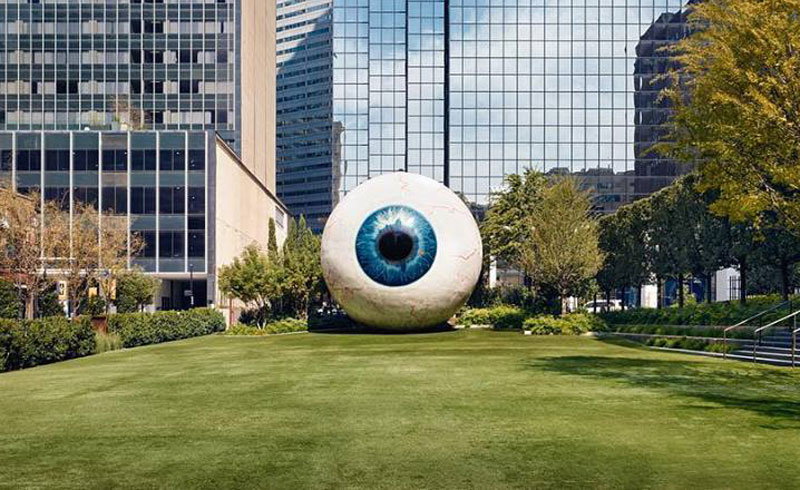 Dallas – Eye
Artist Tony Tasset is watching over downtown Dallas – literally. Tasset focuses on creating works of art that reflect recognizable objects. For this project, the Chicago based artist took a picture of his own eye and turned it into a three-story tall fiberglass sculpture. This eye-catching sculpture is located across from the Joule Hotel at 1601 Main Street for all locals and visitors alike to gaze upon.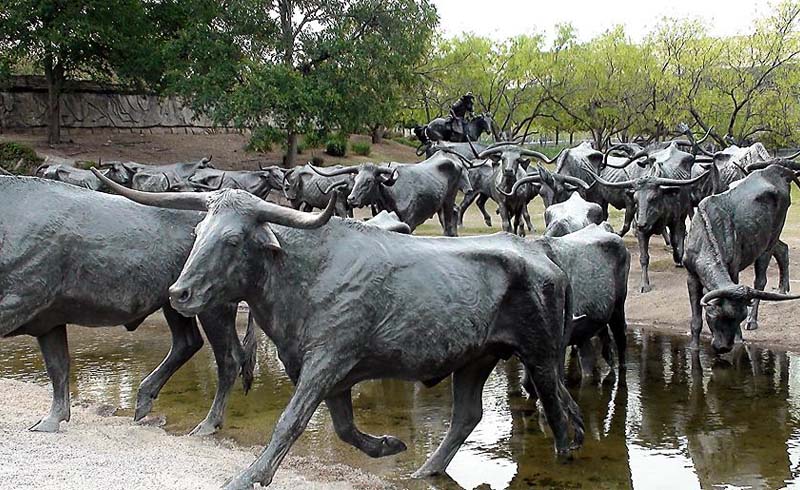 Dallas – Pioneer Plaza
Dallas has come a long way since its cattle driving days, but the city still pays homage to its rich past at Pioneer Plaza, which commemorates the trails that lead settlers to Dallas. Artist Robert Summers sculpted forty bronze longhorn steers and three cowboys riding their horses to memorialize the cowboy culture. Located at the intersection of South Griffin and Young Street in downtown Dallas, this is the second most visited site in downtown. Check out what it looked like to be a cowboy and honor Texas' past!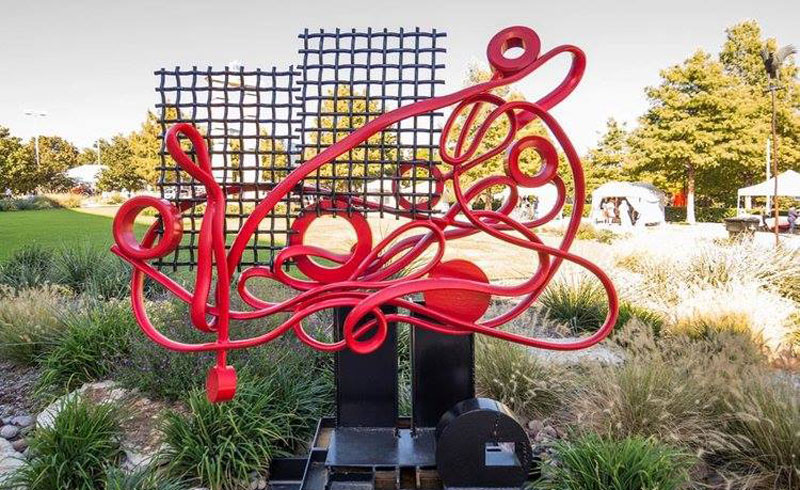 Frisco – Texas Sculpture Garden
Four acres at HALL Park's entrance have been dedicated to displaying contemporary sculpture crafted by Texans across the state. Known as the Texas Sculpture Garden, you can uncover more than 150 pieces of art at the development. The garden is recognized as the largest private collection of contemporary Texas sculpture available to the public. Everything from the landscaping to the pedestals has been carefully planned and laid out for ultimate viewing pleasure. Stop by the garden located at Gaylord and the Dallas North Tollway when you need your next art fix.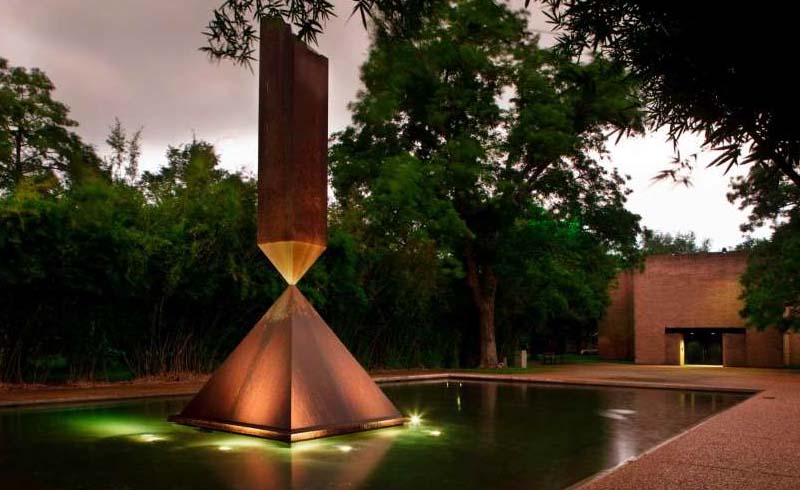 Houston – Broken Obelisk
Dedicated to Martin Luther King Jr., the Broken Obelisk can be found in the Rothko Chapel in Houston. Constructed in 1963-1964 by Barnett Newman in New York, this sculpture holds a significant connection to the Civil Rights movement. Upon its permanent move to Houston in 1969, the Rothko Chapel and Broken Obelisk serve as a constant reminder of the importance of peace and understanding.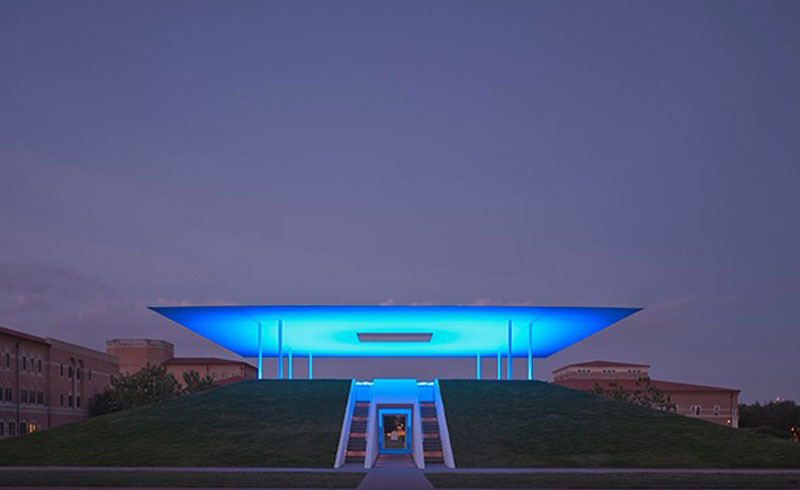 Houston – Twilight Epiphany
Change the way you view the world above and visit Twilight Epiphany, located on Rice University's campus. In a series created by James Turrell, this is the 73rd piece designed to give participants an alternative view of the sky above, using the structure itself and light. Sunrise and sunset are when the magical light show brings the piece alive to give you a different perspective. On occasion, Rice's Shepherd School of Music can be found adding a musical touch to the outdoor art to give viewers the ultimate experience.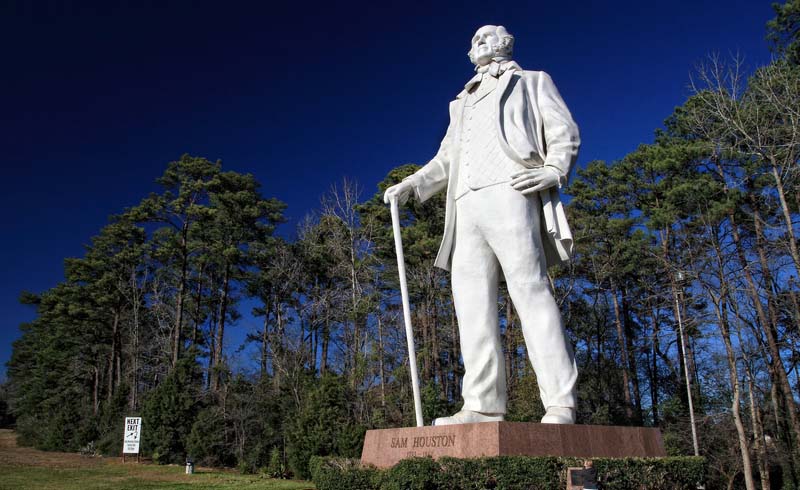 Huntsville – Tribute to Courage
Sam Houston is a true Texas hero. His fame emerged when he defeated Santa Anna's Mexican army in the Battle of San Jacinto – a victory that rang so sweetly in every Texan's heart during the Texas Revolution. David Adickes immortalized Sam Houston in his hometown with a 67-foot tall sculpture, making it the world's tallest statue of an American hero.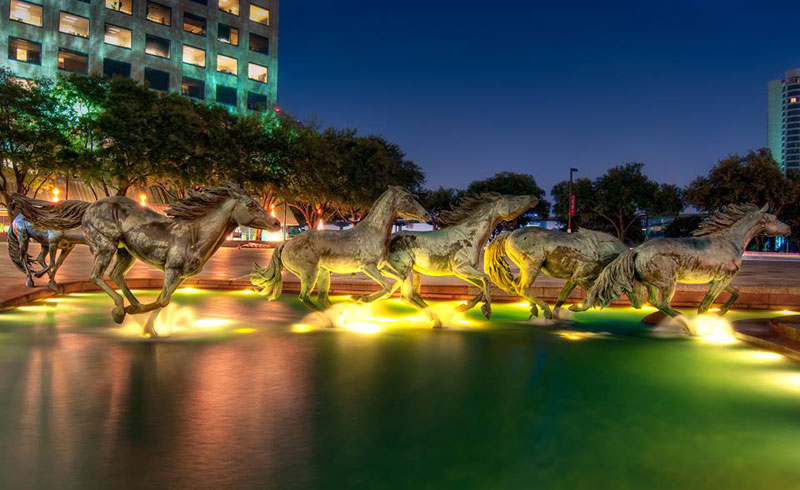 Irving – The Mustangs of Los Colinas
The Irving enclave of Las Colinas is home to Williams Square, a high-end office campus that surrounds the famous Mustangs of Los Colinas sculpture. Nine bronze, larger-than-life mustangs galloping through a watercourse is one of the largest equestrian sculptures in the world designed by artist Robert Glen. Giving a historical nod to the mustangs that once roamed Texas during its pioneer days, you'll feel one with the past when you observe the sculpture up close.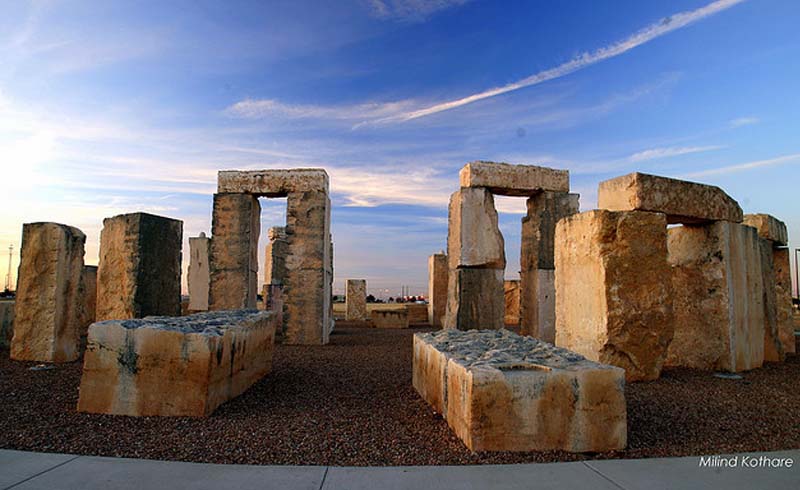 Odessa – Stonehenge Replica
Forget your passport and head straight to Odessa to experience a replica of England's awe-inspiring Stonehenge. This remake can be found just off I-20 at the Permian Basin campus of the University of Texas. Besides standing a shy three feet shorter than its English counterpart and using tractor-trailers rather than human hands for the installation, this remake was created using exact specifications of the original. You'll feel as though you've flown across the pond when you lay eyes on this masterpiece.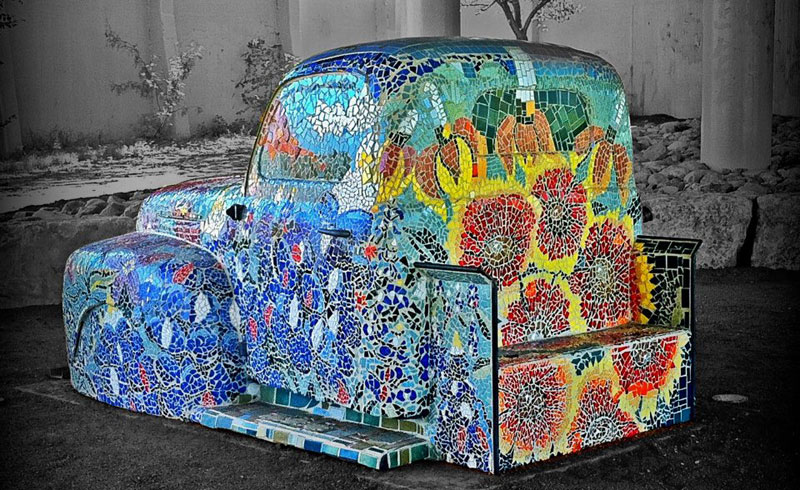 San Angelo – Art in Uncommon Places
Art in Uncommon Places is a non-profit organization founded by retired art teachers that work with local artists to brighten the city of San Angelo. You can find over 100 art displays throughout the city, known for being crafted with uncommon materials and placed in unusual locations. This combination makes for a truly one-of-a-kind, must-see art exhibit throughout the city.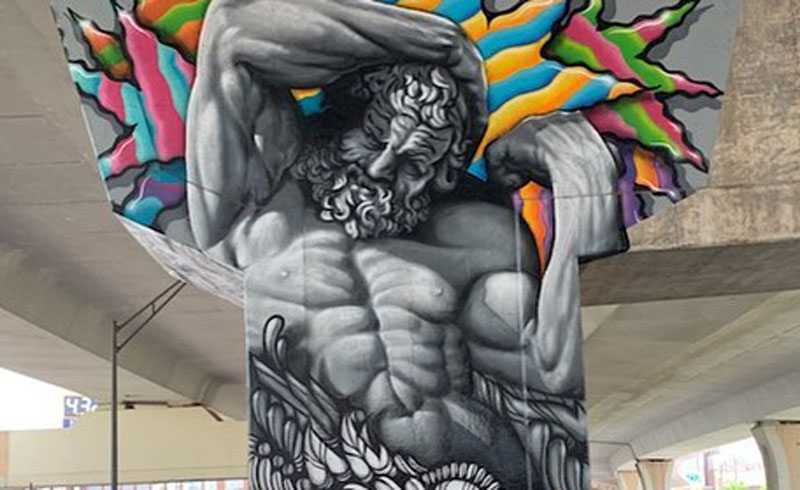 San Antonio – Murals at Midtown
San Antonio Street Art Initiative is shaking things up! They have launched a project to create the largest outdoor art gallery in Texas to give people the ability to view public art and learn more about it – phase I has already been completed. At St. Mary's St. & Quincy, you can find 16 different murals painted on the pillars that hold up the highway. Well received by both the community and community leaders, Murals at Midtown have been declared a San Antonio landmark! These beautifully designed works of street art are just the beginning – phase II is underway and will surely blow our minds!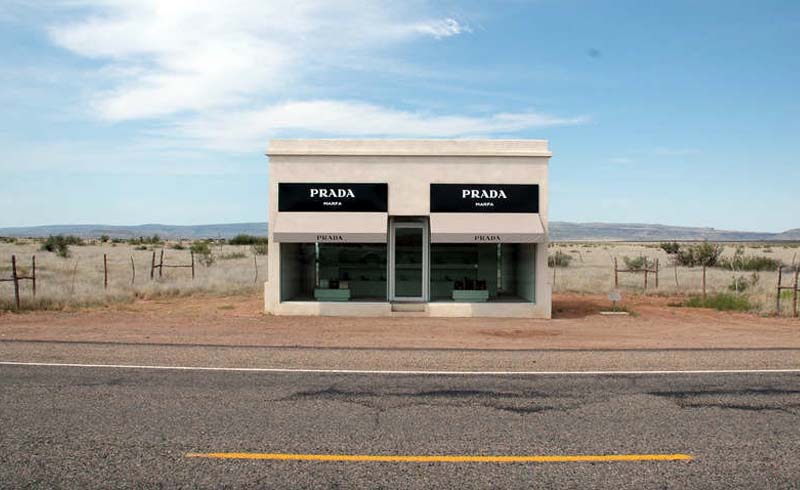 Valentine – Prada Marfa
Artistic duo Elmgreen and Dragset built the only stand-alone Prada location in Texas back in 2005. This is the most affordable Prada location in the entire world because it's only a look-alike—more specifically, a "pop architectural land art project." Take a drive down US 90 and stop just outside of Marfa in Valentine, Texas, to snap your perfect Instagram picture, complete with real shoes and handbags from the 2005 collection in the windows.