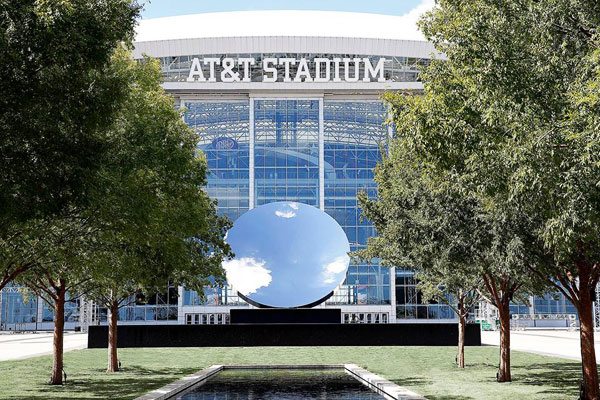 AT&T Stadium is a world-renowned venue that is home to the Dallas Cowboys and also hosts big college match-ups. If you attend college in the Lone Star State, you will most likely spend some time in "Jerry World," so knowing how to navigate AT&T Stadium is essential. Here is our guide for how to College Football at AT&T Stadium. 
Plan Ahead.
Once you have your ticket, figure out how you are going to get to Arlington (just outside of Dallas). If you've got a sweet ride and want to show it off, you'll want to get a parking pass. Parking passes can be purchased for the surrounding lots of AT&T Stadium prior to the event. Otherwise, take an Uber. If you choose to Uber, your drop off and pick up location will be conveniently located at Lot 15. You can use DallasCowboysMaps.com to get a custom route from your starting point to your parking location.
Know Where to Stay.
For those coming in solely for a game and leaving, there are plenty of hotels in the Arlington area that offer a comfy room and typically a shuttle service to and from AT&T Stadium. If you are staying for a little longer, enjoy more of what Dallas has to offer by staying uptown or downtown, near Dallas' best nightlife.
Plan Your Outfit.
You'll want to be dressed to the nines entering AT&T Stadium. If you want to shop when you arrive, check out Beehive in Fort Worth. For a full-on shopping spree, you can never go wrong with NorthPark Center in Dallas. Just make sure you complete your look with a stadium approved clear bag. Check out some of the best retail in college towns to see what's trending.
Arrive Early.
Just like a college venue, there are plenty of tailgating opportunities outside of the stadium. But AT&T is unlike any other. Each and every inch of the stadium is utilized to provide the best entertainment experience. Often times, there will be performances at the outdoor plazas, pre-game shows, and much more to enhance gameday. Additionally, security lines can get long as gametime draws near, so arriving early guarantees you will be in your seat right on time!
Explore the Stadium.
There is much to do once you're inside. There are gourmet concessions around the stadium, or if you plan ahead, you can snag a reservation for the delicious Stadium Club. If you walk around, you might also notice that AT&T Stadium serves as a museum of art. There is a piece of art in almost every nook and cranny, so keep your eyes open for insta-worthy shots! Additionally, for those who are ready to splurge, there are a few retail shops located within the stadium including the Dallas Cowboys Pro-Shop.
After the Game.
It's time to celebrate! After the game, head out to Henderson Tap House, The Owner's Box, or The Rustic to enjoy sips and good company. After a day full of fun and entertainment, enjoy your victory out on the town in Dallas!