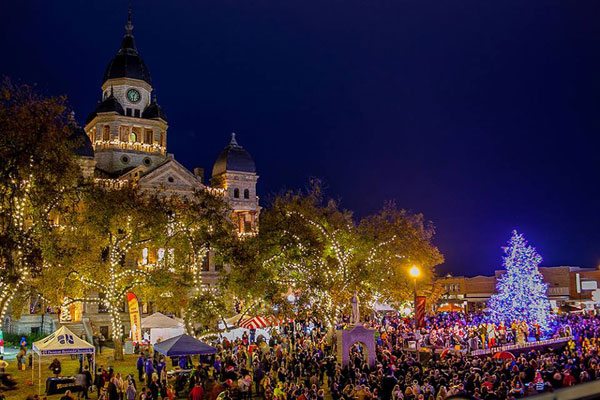 Nothing gets me in the holiday spirit quite like going to look at holiday lights (although Starbucks eggnog lattes are a close second). But when you're in college, the holiday season is basically synonymous with finals and formals—meaning your free nights are limited. Here are the best places to see lights in your college town so you can get the most festivity possible out of what free time you do have.
Austin
Austin Trail of Lights is a walk-through lights display that runs from December 9 through December 23. While tickets are relatively cheap (either $3 or free, depending on the night), parking is expensive and hard to come by, so I recommend checking the shuttle schedule. And if you can, make sure to go December 10 for UT night.
College Station
Just south of town on Highway 6 sits the Texas landmark known as Santa's Wonderland. Featuring not only a hayride lights tour, but a full Christmas themed village including food, shopping, live reindeer, concerts, and even wine tasting now through January 7. Tickets are on the pricey side at $32.95 if you purchase online, but it's totally worth it if for nothing else than the Instagram worthy photo-op at the giant twinkle light Texas flag.
Dallas
The SMU campus has it's own light display that runs from November 30 through January 3 (which means easy access to some holiday spirit during late night study breaks). On opening night, there will be a lighting festival featuring live music and a reading of the Christmas story. If you're still wanting more lights, the surrounding neighborhood of Highland Park has some of the best lights in the metroplex and is perfect to look at by car, bike, or horse drawn carriage.
Denton
On December 1, Denton will be hosting a Christmas tree lighting on the square in downtown. And, because this is Denton, there will be musical performances on every corner. Literally. There will also be a live nativity as well as plenty of vendors and food trucks. It all gets started at 5:30 PM and runs until 9:30 PM.
Lubbock
The Christmas lights on campus are one of the oldest Texas Tech traditions. On December 1, there will be a ceremonial lighting (featuring The Masked Rider, Saddle Tramps Torch Light Processional, and High Riders), but the lights will be turned on at dusk every night through January 1. Can't make it in person? Catch the lighting ceremony on the university's livestream!
Waco
Several different Baylor student organizations will be hosting an on-campus tree lighting in the Burleson Quad on December 1. The tree lighting ceremony will happen at 8:15 PM, but there will be activities happening all over campus from 6 to 10 pm (like a Christmas tree farm, carriage rides, and even a live nativity—meaning lots of cute animals and plenty of great photo-ops).