Let us show you the way to Amarillo, a city with pioneering Western spirit in the Texas Panhandle that is not to be overlooked. Home to the country's second largest canyon, a steakhouse where you can eat a 72 oz. Steak if you dare, half buried vintage Cadillacs and song-worthy skies, Amarillo might just be your favorite place to be this summer!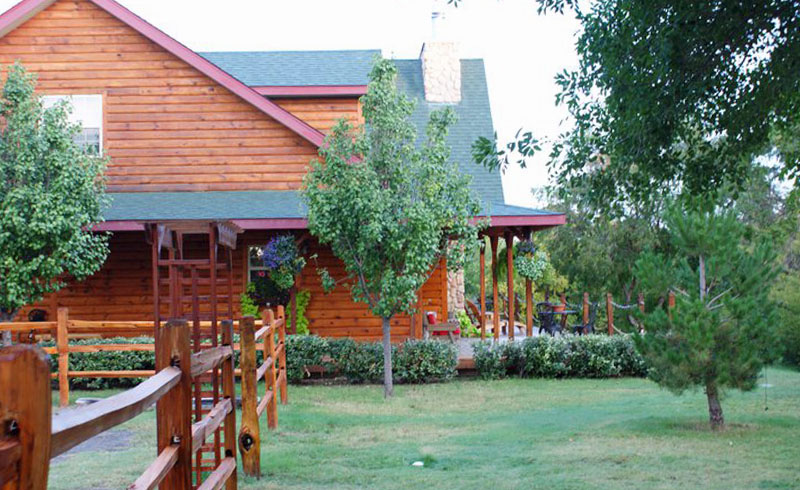 In order to start the trip right, stay at Three Falls Cove. This quaint B&B is tucked away in the Texas Panhandle, only a 50-minute drive from the city. Located next to Lake Meredith National Park, these 43 acres of wildflowers, rolling hills and red rock canyon are the perfect place for a nice family getaway. But if you don't want to make the drive, don't worry, just drive along I-40 and you'll find plenty of good hotel deals in the heart of the city.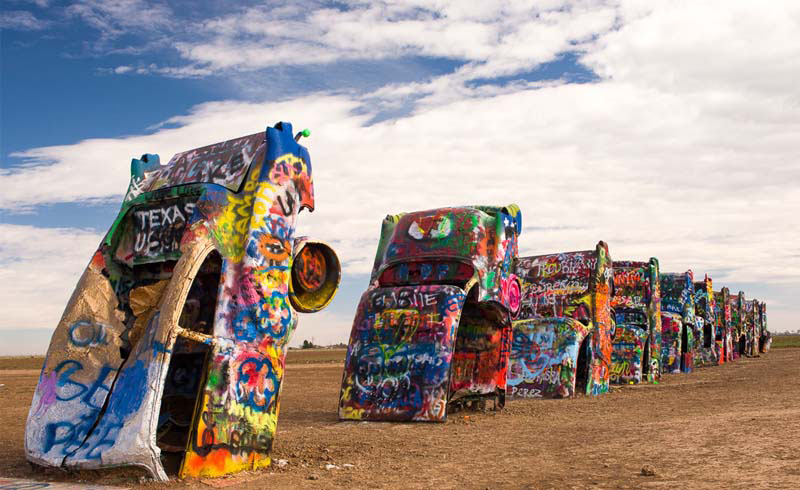 Once you're all settled in, we hope you're ready and rarin' to go, because this city has a lot to offer. Start off with the iconic Texas roadside attraction, Cadillac Ranch. Standing along Route 66 are 10 vintage Cadillacs, half-buried, nose-down in the middle of a field. It is a tradition for those who stop by to bring spray paint and leave your own mark on the Caddies.
Take the kiddos to The Don Harrington Discovery Center, where they will be able to explore the only planetarium in the Texas Panhandle, catch a film at the Digital Space Theater, and meet some furry and scaly friends at Critter Row. Make sure to take advantage of the seasonal exhibits, where they'll have a blast with hands-on fun, while the adults take shelter from the mid-afternoon heat.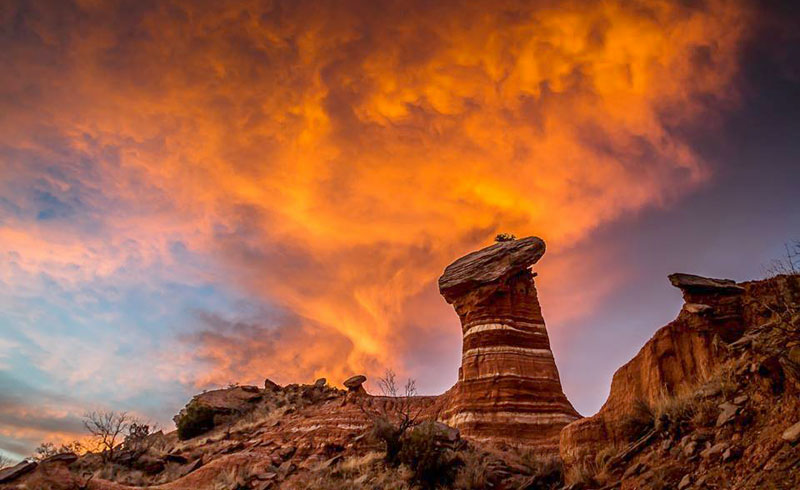 Believe us when we say the fam will never run out of things to do on a trip to Amarillo. Home to the Grand Canyon of Texas, Palo Duro Canyon State Park, it's one of Texas' biggest hidden gems (literally). Whether you want to hike, camp, run, walk, bike or just do it for the 'gram (been there, done that), Palo Duro Canyon holds over 30,000 acres of preserved national park. Take a trail and visit the imposing "Lighthouse" rock, and make time to take in the famous "Texas", the outdoor musical. If the crew is feeling adventurous, then check out the special cabins on the canyon rim for some of the best stargazing in the state. All this, only a 30-minute drive from downtown—who would've guessed?
Exploring the great outdoors is fun, but let's be honest: is it a summer getaway if there isn't shopping involved. Really? Drive down the mother road for some good vintage finds in Alley Katz Antique Emporium. Come prepared, because 12,000 sq. ft. of hidden treasures await you. While you're in the area, make sure to stop by The 806 to fuel up. This coffee shop is adored by all the locals.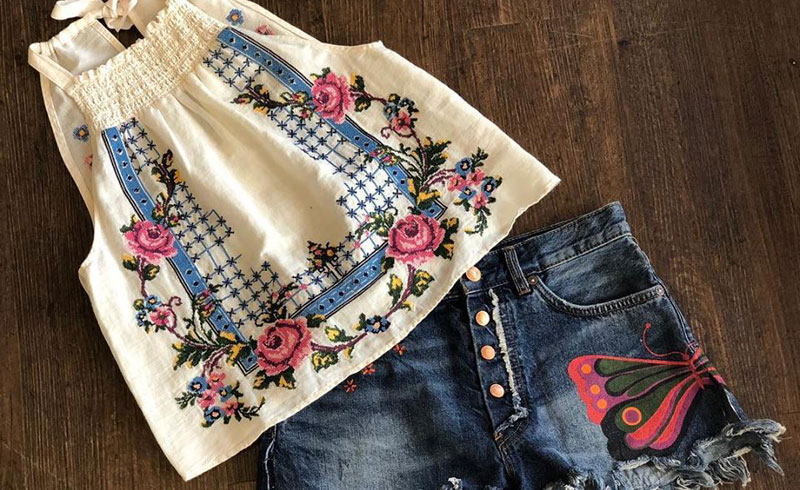 Once your batteries are recharged, visit some of our favorite shops:
When hunger strikes, which it will after all that exploring, buckle up for some of the best (and most) food you'll ever have. Taste some of the most flavorful gourmet pizza pies we've ever had at 575 Pizzeria. This local pizza shop uses fresh ingredients, made-from-scratch dough and the most mouth-watering selection of cheeses! If you're looking for a sit-down meal, then look no further than Crush Wine Bar & Deli. Located in historic Downtown Amarillo, Crush's build-your-own cheese & meat platter is the perfect way to unwind from a busy day, and their selection of wine is a must.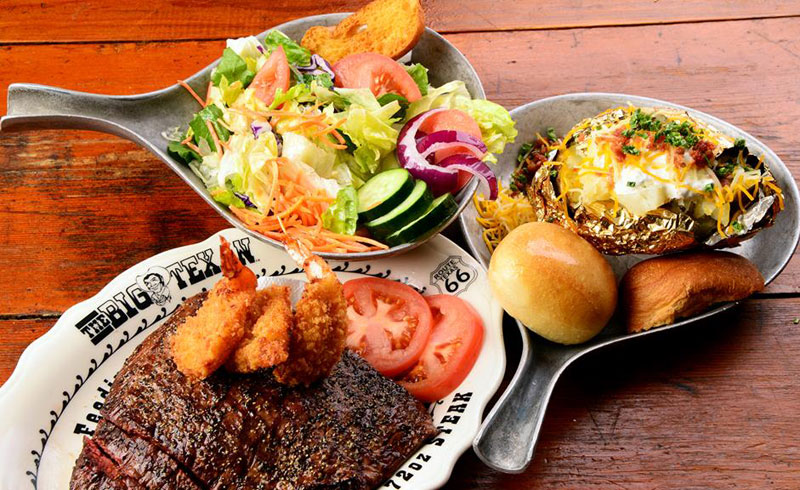 Embrace the real Texan in you and head to the world famous Big Texan Steak Ranch, home of the 72 oz. steak challenge. With a motel, a Texas shaped pool, a brewery, a beer garden, a horse motel and free limo service, this Route 66 icon is an experience all its own. Try some of their staples like the Man vs Food, their Half-Pound Burger or our personal favorite, the 8 oz. Big Texan Filet with a Baked Potato (loaded) and a flight of their home brews. It just doesn't get any more Texan than this. If you're up for a challenge, then take a shot at their 72 oz. steak challenge, where you'll have to finish a shrimp cocktail, baked potato, salad, dinner roll, and of course, the 72 oz. Steak, all under 60 minutes. The current record is three, 72 oz. steaks in 20 minutes, beat that! Once dinner is said and done, head out to their beer garden where the kids can play some games, enjoy a small magic show and the adults can sip on some of The Big Texan Brewery's 12 different handcrafted brews while listening to some live music from local artists. Last, but definitely not least, take a stroll inside their unique little gift shop, but be careful because they've got a live rattlesnake!
End your trip at one of Amarillo's newest attractions, Starlight Ranch Event Center! Boot up your look and head out to this brand new event center where you can enjoy a night of frozen margs and catch a concert from artists like Reckless Kelly or the Randy Rogers Band. Don't worry about the kids, they're sure to have some fun with the Route 66 zipline, mini putt and driving range, and maze!