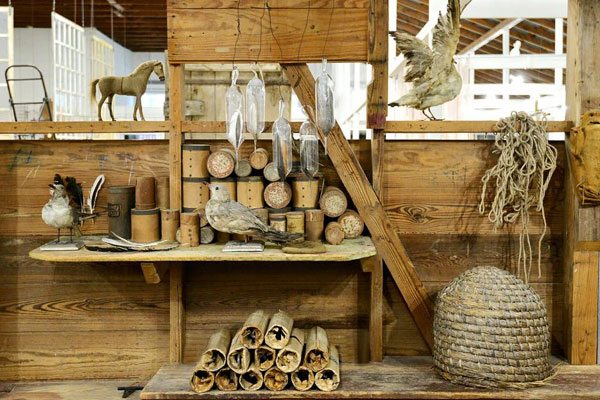 There's no shortage of antiques in Texas. From nationally renowned antique fairs to hidden treasures in small towns, Texas is a treasure trove for collectors.
ncommon Objects has a reputation as a must-see in Austin. It's filled with unique vintage finds, cool antiques and quirky odds and ends. If you're looking for something one-of-a-kind, you'll find it at Uncommon Objects.
Burns Antiques, Beaumont
Walking through Burns Antiques is like taking a trip around the world. Owner Julie Burns travels the globe to collect the best antiques from Europe and beyond.
BAW Resale, Beaumont
BAW features over 15,000 square feet of vintage salvage and hosts a monthly "Junk Day," inviting vendors from all over to swap and sell eclectic finds. BAW also creates custom sheets, pillows and textiles.
First Monday Trade Days, Canton
First Monday Trade Days in Canton is the oldest and largest continuously operated flea market in the United States. Trade Days has been running for over 100 years and boasts over 450 acres of shopping paradise. Each month, as many as 7,500 vendors set up shop in Canton, so you're sure to find something you love.
Uncommon Market, Dallas
Uncommon Market has been a Dallas favorite for almost 50 years. It's ever-changing stock of collectables from around the world is unlike any other, and the family-run atmosphere is friendly and welcoming.
Antique Gallery, Denton
Antique Gallery in Denton features one of Texas' largest western antique collections. The massive 22,000 square foot warehouse is a true treasure hunt and you'll find everything from clothing to coins to toys.
Montgomery Street Antique Mall, Fort Worth
You don't need to limit yourself to just one antique store—Montgomery Street Antique Mall in Fort Worth, Texas houses hundreds of vintage vendors under one roof.
Carol Hicks Bolton, Fredericksburg
A gorgeous furniture and décor shop, Carol Hicks Bolton boasts 30,000 feet of magnificent antiques sourced from Europe and beyond. From vintage textiles to repurposed metals, this is THE store to visit if you're looking to add an old-world charm to your home's style.
Red Shed, Grapevine
The amazing selection of antiques from Red Shed in Grapevine is sourced through annual trips to London and France to bring you French cottage antiques and vintage home décor. Red Shed also hosts dozens of large sales every year and frequently has events featuring chic furniture and décor.
My Favorite Room, McKinney
My Favorite Room is loved by interior designers all over Texas. Owner Kathy McCabe carefully curates each piece to match her glamorous and timeless style. My Favorite Room specializes in furniture, bedding, art and home accessories.
Round Top Antique Fair, Round Top
Round Top Antique Fair has it all—furniture, clothing, art and eclectic items from around the globe. This massive fair is one of the most popular antique shows in Texas, but plan your trip early because this event only happens a few times a year!
Laverty's, Waco
Laverty's is a bit of a Waco mystery. The hours are sporadic and the inventory is unpredictable, but visiting the warehouse is well worth it. Tip: follow their Facebook page to stay up-to-date on when they will be open. You DON'T want to miss out on Laverty's!