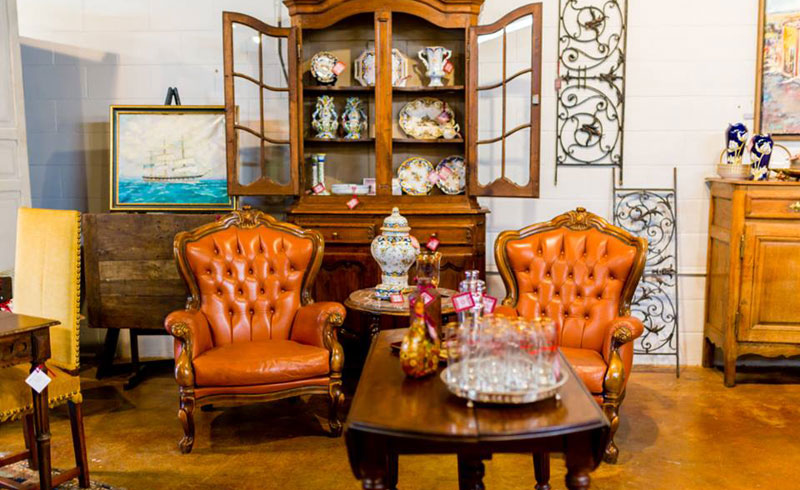 There's no shortage of antiques in Texas. From nationally renowned antique fairs to hidden treasures in small towns, Texas is a treasure trove for collectors. Round Top, one of the smallest towns in Texas, hosts four Antique Fairs a year bringing visitors from all over the country to their city. But, don't you worry, if you cannot make it to Round Top for a fair, we have provided a list of the best antique stores all over the Lone Star State.
Austin – Uncommon Objects
This quirky antique-lovers' destination in the heart of South Congress showcases a broad and diverse range of jewelry, taxidermy, knick-knacks and toys. Housing antiques from over twenty sellers, Uncommon Objects is the ultimate nostalgic adventure.
Fort Worth – Old Home Supply House
Serving the Fort Worth community for almost thirty years, this four-building outpost is filled with local and global finds. Visit Old Home Supply House for aged tubs, sinks, doors and lighting, in addition to hardware.
Fort Worth – Montgomery Street Antique Mall
This 61,000 square foot artifact warehouse opened in 1994 and continues to be dubbed the largest antique store in Fort Worth. Inside Montgomery Street Antique Mall, discover timeless furniture and collectibles, in addition to a whimsical tea room.
Denton – The Antique Gallery
With over 22,000 square feet of collectible glory, The Antique Gallery is home to the largest selection of western cowboy memorabilia in Texas. In addition to timeless home accessories, shoppers can find retro furniture and home décor that adds character to any living space. While you are there, be sure to check out the Western Heritage Gallery that boasts the largest year round collection of Western Americana collectibles.
Beaumont – Burns Antik Haus
You'll feel like you're taking a stroll through the streets of Europe at Burns Antik Haus. From a flamingo lamp and dining sets to stunning art pieces and jewelry, this niche antique shop won't disappoint.
Beaumont – BAW Resale & Interiors
BAW is a collectors' heaven, featuring over 15,000 square feet of vintage salvage and antiques, in addition to its custom fitted slipcovers and pillows. On the first or second Saturday of the month, BAW hosts a junk day inviting
vendors from all over to present their eclectic finds.
Georgetown – Gatherings
Every visit to Gatherings in historic Georgetown is a feast for the eyes. Featuring a diverse selection of U.S. and European vintage goods, this shop is a hidden gem in Central Texas, filled with treasures you won't find anywhere else.
Waco – Laverty's
To find out when Laverty's  is open, you must follow the eclectic Waco treasure on Facebook. Even if the store hours are unpredictable, the inventory is worth the wait! This antique warehouse showcases classic furniture, collectibles, architectural salvage, vintage cameras, jewelry and the unexpected.
Fredericksburg – Carol Hicks Bolton Antiques
Here you'll find one-of-a-kind beds, French cabinets & curiosities, all sourced from Europe and beyond. With 14,000 square feet of magnificent finds for decorators, collectors and resellers, Carol Hicks Bolton Antiques offers a wide range of products and character. If you love what you see (we're sure you will), visit her other stores: Room No. 5 and Gus's Antiques.
Grapevine – Red Shed Antiques
Frequent flea market visitors will be impressed by Red Shed Antiques' French flea market finds and chic furniture and décor. From mirrors and crystals to distressed doors and art, this Grapevine gem offers a memorable shopping experience.
Dallas – Uncommon Market
Expect an eclectic array of antiques and vintage items from France, Holland, England and Belgium at Uncommon Market. Its 45-year history brings a wide variety of supplier collections, transforming the shop into an antique wonderland.
McKinney – Antique Company Mall
Antique Company Mall offers retro furniture, decor, clothing, jewelry, and memorabilia sure to pique your interest. The inventory ranges from mason jars, burlap signage and lamps made from old globes to items you might find in a thrift store.
Waxahachie – Old Town Village Antiques
Located in the heart of downtown Waxahachie lies Old Town Village Antiques. This eclectic store showcases classic furniture, collectibles, architectural salvage, vintage cameras, jewelry and the unexpected. It is often called "The Best Kept Secret of South Dallas" so make sure to stop by and discover all the treasures they have to offer.
Canton – First Monday Trade Days
First Monday Trade Days in Canton is the oldest and largest continuously operated flea market in the United States. Trade Days has been running for over 100 years and boasts over 450 acres of shopping paradise. Each month, as many as 7,500 vendors set up shop in Canton, so you're sure to find something you love.
McKinney – My Favorite Room
My Favorite Room is loved by interior designers all over Texas. Owner, Kathy McCabe, carefully curates each piece to match her glamorous and timeless style. My Favorite Room specializes in furniture, bedding, art and home accessories