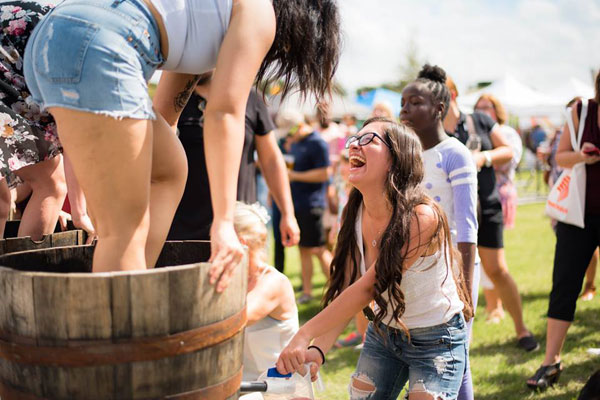 Just because summer is over doesn't mean the fun is too! Plano is serving up some of the best festivals and concerts of the season, and we're so excited to explore the festivities in our favorite sweaters. From an Oktoberfest-style event to the Plano Symphony Orchestra, there is something for everyone! 
Every Friday & Saturday night starting September 6th from 6:30PM – 9:30PM, enjoy live performances from musicians at the Shops at Legacy. Order dinner on the patio, shop the center or just come out to relax and hear the music. 
Plano is debuting a Hollywood-worthy film festival at Cinemark West Plano from September 26th – 29th. Twenty different shorts, films and Oscar-contending movies will be featured! Red carpet events, themed nights, live music and even Q&As with filmmakers will take place every evening. If you're a movie lover, you won't want to miss this event benefiting the Veterans Institute for Film and Media.
Plano Magazine Beer Walk at Willow Bend
If you love to shop as much as we do and you also enjoy craft beer, this event was made for you! On September 26th from 5:30PM to 8:30PM, try over 30 different beers at The Shops at Willow Bend. Listen to live music, enter to win prizes, learn from the brewmasters themselves and take advantage of all the store discounts! If you can't make it to the first one, no sweat! Another Beer Walk will be held November 21st – same time, same place. 
Plano Symphony: 2019/2020 Concert 1 
Watch Raiders of the Lost Ark like you never have before! This Academy Award-winning movie starring Harrison Ford will kick off the Plano Symphony Orchestra's 2019/2020 concert series on September 28th at 8:00PM. The full length film will be accompanied by the Orchestra to create an immersive experience for everyone. 
2nd Annual Plano Food + Wine Festival
We're here for the wine tasting! Hosted at The Shops at Willow Bend on October 5th from 2:00PM – 7:00 PM, 100 different wines will be on deck for you to taste. This FREE event will feature lots of foodie favorites and display mixology demonstrations presented by DFW culinary experts. Three bands will keep it groovy and the whole family can enjoy an evening of fun! 
On October 12th, take a trip around the world in Plano! Yes, you heard that right. At the International Festival from 11AM – 5PM, you can explore over 100 different cultures through music, food, performance and more – all without bringing your passport. As an added bonus, they are promoting health and showcasing a Fitness and Wellness Fair from 10AM – 1PM, which offers free flu shots and screenings. 
Plano Symphony: 2019/2020 Concert 2 – Rhapsody in Blue 
Delve into the musical talents of the Plano Symphony Orchestra on October 19th at 8:00PM! Their second concert of the season will spotlight Rhapsody in Blue and feature the piano and orchestra. Enlighten your senses with the soothing sounds of music!
If you can't make it to Germany for Oktoberfest this year, no worries! The Historic Downtown Plano Association is hosting Steinfest right here in Texas October 25th – 26th! We want all the brats, German beer and polka music we can get! This family-friendly event will have a kid-zone, live music, German inspired cuisine and more.