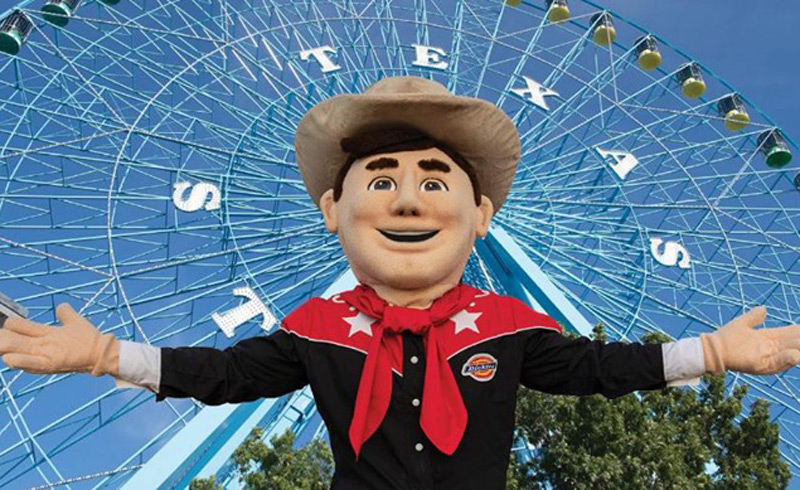 It's that time of year again – the 2019 State Fair of Texas runs Sept. 27th – Oct. 20th. Tickets for general admission are sold at the gate for $18 and $14 for for seniors (60+) and kids (under 48 in. tall). Take in all the sights and smells of this must-see event at a DISCOUNTED price – because why pay full price when you don't have to? We have the list for shortcuts and tips to knock off a few dollars on admission so you can try all of the new fried foodie fare debuting this year! See how you can save some money before you even walk through the gates: 
Skip the ticket booth crowd and buy online where you'll find tickets $1.50 cheaper!
Get VIP treatment and purchase a $45 season pass, which grants you access into the fair all 24 days so you can make sure you see it all plus some VIP extras.
If you have a large group, don't worry, discounted group rates are offered for groups starting at 20 people!
Purchase general admission tickets directly from your DART GoPass app for $16 and $12 for child/senior tickets – you're saving the planet and money for Corny Dogs!
Next time you're shopping at Kroger, buy general admission tickets for $16.50 or a season pass for $39.95 from September 2nd – October 20th!
Afraid of the weekend crowds? No problem! Bring an empty can of Dr Pepper after 5PM on ANY weekday, and you'll receive a ticket at half price!
Don't throw away the tray liners and bag stuffers at participating McDonald's because you'll find coupons for $5 off printed on them – we're lovin' that!
If you like to try things first, you're in luck! On opening day, bring a bottle of Dasani water (20 oz.) to donate to the North Texas Food Bank and you'll get entrance to the fair for $9. Insider tip: any type of 20 oz. Coca-Cola products will be accepted!
Texas appreciates our country's veterans and military personal! So opening day has been deemed Military Appreciation Day and any active or retired military and veterans will gain 100% free entrance to the fair!
On Tuesdays, you can gain entrance to the fair for HALF PRICE when you bring an empty can of Dr Pepper. Pssst! We also heard almost all of the rides will be offered at a lower ticket price, too!
Wednesday is our new favorite day of the week because when you donate 4 cans of food to the North Texas Food Bank at the entrance, you'll be able to purchase a $4 general admission ticket – giving back sure does feel good!
Thursdays are senior days! If you're over 60, you will gain free admission to the fair.
If you're not over 60, don't worry. Thursdays can still be about you! Chug a 20 oz. bottle of any Coca-Cola product and turn the bottle in for a $9 general admission ticket! You'll also score some discounted food while you're there – most vendors offer one of their famous menu items at a lower rate!
Friday, October 11th is when all active duty and retired first responders will be honored for their contributions to the community with FREE admission to the fair!