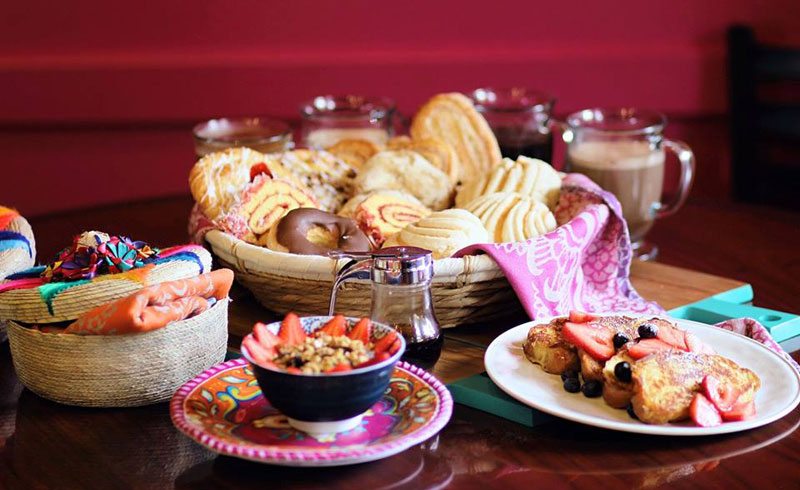 Sister city to Nuevo Laredo, Tamaulipas, MX, it is only logical that Laredo, Texas, is a hub for both Tex-Mex and authentic Mexican Cuisine. Whether you are looking for an early morning breakfast, brunch, lunch or dinner, this city has it all.  Experience Laredo's unique South Texas culture through its food, ranging from a traditional home-style meal that you could easily find in your "abuelita's" kitchen to American cuisine with a Mexican flare at these top Laredo restaurants.
Breakfast – Bolillo's Café
This is a go-to spot if you are in the area. Bolillo's menu is quite extensive including items like fish tacos and enmoladas (corn tortilla rolled around a filling and covered in chile pepper sauce). Our favorite menu item by far is their breakfast bolillos, which hit home with all those who grew up in a Mexican household. This butter-grilled oval-shaped bread topped with a breakfast fixing are simply delicious. Our go-to toppings are huevo a la mexicana, chicharron con salsa and deshebrada. If you can't make up your mind, don't worry–you can always get one with revoltijo, a word that quite literally means a mixture of everything. Before you leave, make sure to keep an eye out for their pan dulce (sweet bread) from their in-house panadería, (bakery). If you're lucky you might just get some straight out of the oven.
Weekend Brunch – Lolita's Bistro
Known for its fun and original murals, rainbow-colored tables and huge chalkboard wall, Lolita's Bistro has the best brunch in the city! You have never truly been brunching Mexican-style if you haven't had Chef Maita Fernandez's chorizo chilaquiles. This Mexican dish, known for its ability to cure a good night's doing, is composed of lightly fried corn tortillas topped with a green salsa, queso fresco, onions, crema and a perfectly fried egg sunny side up (is there any another way to do it?). Lolita's also offers your traditional breakfast meals with chicken and waffles, banana Nutella stuffed french toast and loaded steel cut oatmeal.
Lunch – Border Foundry
Steam punk meets farmhouse with a Mexican flare–yes, you heard right. Border Foundry is quite the unique spot offering dishes like fried oyster nachos, vegetable ceviché, chicken chipotlé alfredo pasta and huitlacoche tenderloin. If you're feeling daring enough to try their huitlacoche tenderloin, we say go for it. Also known as Mexican corn truffle, or the gray fungus that attacks ears of corn, huitlacoche has been a prized delicacy since the time of the Aztecs. If you choose not to go for it, Border Foundry's clockwork paintings, antique pulleys and other preserved industrial artifacts should be enough to satisfy your senses while you're there.
Dinner – Siete Banderas
Located in the heart of downtown, Siete Banderas is the place to eat, drink and enjoy live music with good company. Offering a unique culinary and entertainment experience, their patio bar is the place to be during the weekend. Their menu includes grilled quail, taquitos del pasillo (braised lamb in chiles served in corn tortillas) and our go-to el Molcajete. Found in every taco joint in Mexico, this dish comes with a combination of both beef and chicken breast with queso fresco and grilled peppers all on a bed of black beans, served with warm tortillas on the side. Just a warning–you better come hungry when dining at Siete Banderas.
Mo To Do
Laredo's annual Jalepeño Festival does so much more… Read more…