Texans take their college football very seriously. And whether they wear maroon, burnt orange, or green, the traditions that go along with game day are just as important as the actual game. Here are some of our favorite traditions that help make college football in Texas such a unique experience: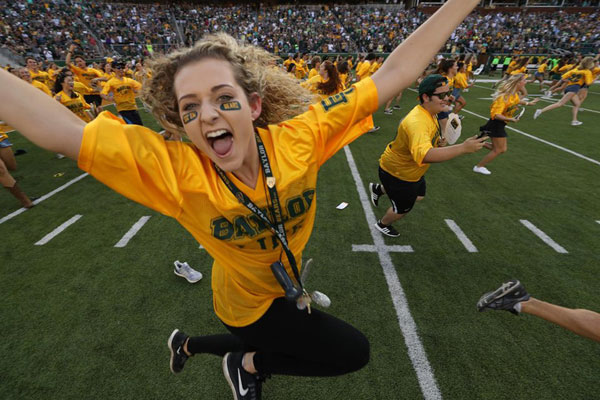 Running the Line at Baylor
Baylor's best tradition is one that students at other colleges can only dream of having. Each Saturday before a home game, freshmen, decked out in gold t-shirts and carrying flags, get the honor of storming the field before the football team does. Then, they form a human tunnel for the team to run through.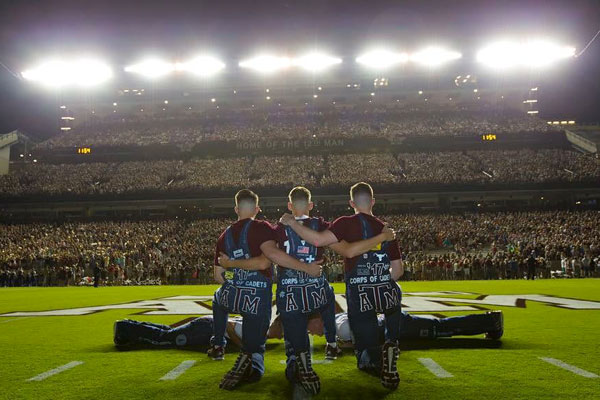 Midnight Yell Practice at Texas A&M
No list of Texas college traditions is complete without mentioning Texas A&M, whose whole identity is basically about traditions. Our favorite is Midnight Yell Practice. Every night before a game, the student body gathers at Kyle Field. The Yell Leaders, Corp of Cadets, and the band lead the Aggies in practicing yells, telling jokes about their opponent, and in singing the War Hymn. Near the end, they shut all the lights in the stadium off for you to kiss your date. Single? Bring a lighter to shine and find someone to smooch!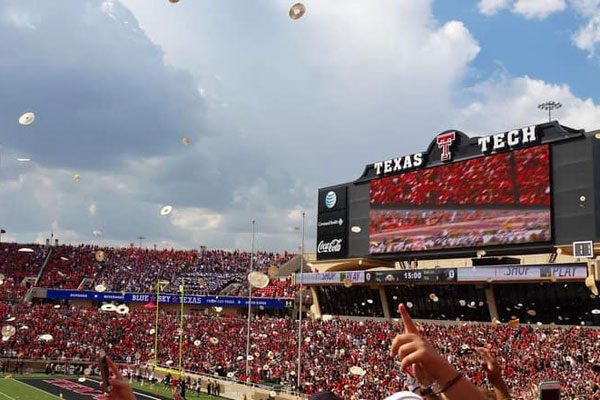 Throwing Tortillas at Texas Tech
Although this is an "unofficial" tradition (the university doesn't approve of it and the NCAA now has a "tortilla penalty"), the student body has kept it going strong. No matter what stadium they are playing, Raider fans attempt to sneak in flour tortillas to throw onto the field prior to kickoff. If students get caught with tortillas at their home stadium, Jones Stadium, they can get thrown out, but this act of rebellion continues to unite students each season.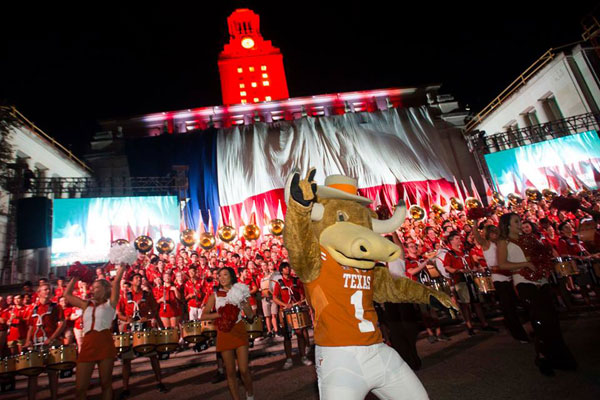 The World's Largest Texas Flag at University of Texas
The UT Alpha Phi Omega chapter currently owns the three largest Texas flags in the world. During UT football games, ΑΦΩ will run the flag, measuring 100 by 150 feet, out onto the field. This tradition isn't just about school pride, it's about Texas pride.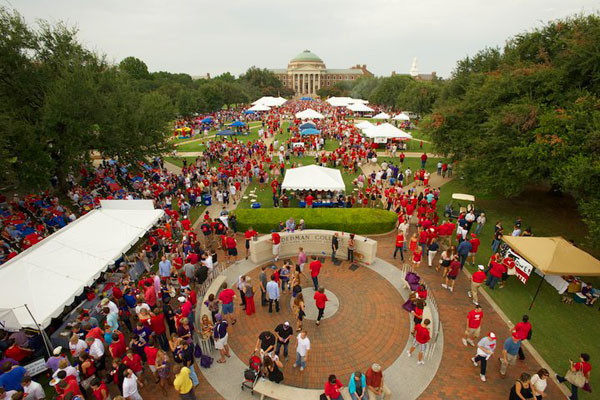 "Boulevarding" at SMU
Tailgating is an essential part of Texas college football, but one school claims to do it better than the rest: SMU. Except there, they don't call it "tailgating," it's called "boulevarding." Everyone gets decked out in their best SMU red and blue (no t-shirts and jeans here) and tents line Bishop Blvd., A.K.A. "the boulevard," where students, alums, and super fans can party before the game.