The new school year is on the horizon and as usual, college freshmen are marching their ways into too many icebreaker activities and endless all-nighters. On the other hand, upperclassmen are gathering motivation to overcome senioritis and finally get that $80K+ piece of paper.
Whether this is your first year of college or your last, decorating your dorm is crucial if you want to make the most of this semester. Dorm decor is not only an opportunity to show off your personality, but also a way to make all-nighters a little more bearable by creating the perfect study environment. That's why we're sharing our Dorm Decor Guide—guaranteed to help you make your college dorm look more like the ultimate hangout space and less like a beige prison cell!
Drop Bed Gorgeous
Start with the centerpiece of your dorm—your bed! Snag this comforter from Bed Bath & Beyond to make your chic textured dreams come true.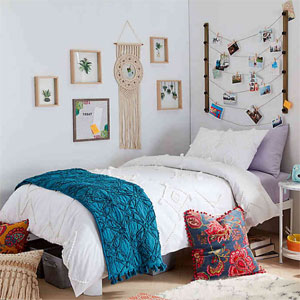 Bed Bath & Beyond comforter $79.99 – $129.99
Light It Up
Incorporate fairy lights, lamps, or even LED lights to make the ambiance of your room cozier—not to mention litty.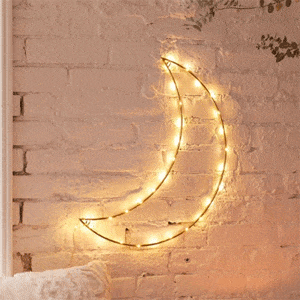 Urban Outfitters light sculpture $34
Oops!… I Grid It Again
A simple, cute, and inexpensive way to level up your dorm game is to print out photos of your preferred aesthetic and display them on your walls. Wire grids or string clip lights such as these will make it look original.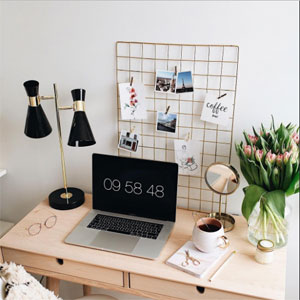 Etsy wire grid $17.99
Give It Life
Plants not only refresh the air at night, but also look ultra-chic. You can find them at Target or pretty much anywhere. Succulents—such as these—are so easy to care for!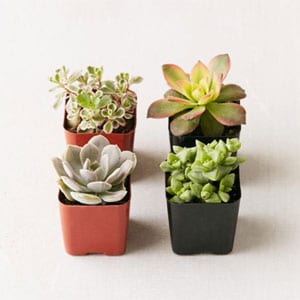 Urban Outfitters live succulents $20 (4-pack)
Blast from the Past
Hit up your local record or antique store to pick up a one-of-a-kind statement piece. For instance, Montgomery Street Antique Mall in Fort Worth is a great spot to go treasure-hunting. You can get creative with your finds and—for example—create a record wall such as this one.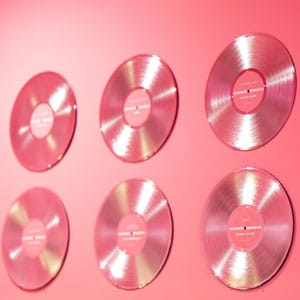 Expand
Let's be real, if you can lay down on the floor of your dorm room without hitting a wall, you're one of the lucky ones. What's more, you're probably going to be sharing this tiny space with someone else. But you shouldn't let this fact get you down. There are many ways you can make your dorm look bigger and a thousand times more inviting! Namely, you can include a big mirror like this one. The reflection will fill the room with light!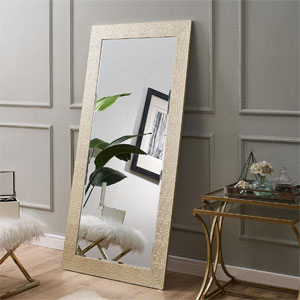 Walmart wall mirror $129.99
Think Vertical
The idea is to make your eyes go from the ground up by decorating the entire wall. This will create the illusion of a higher ceiling. You can do this by adding posters, a tapestry, or whatever your heart desires.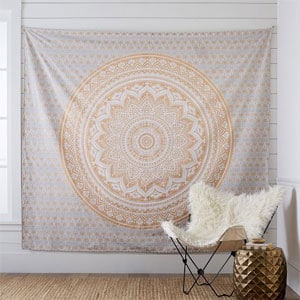 PB Teen tapestry $29
Double-Up on Storage
Look for multi-functional or hidden storage pieces like this ottoman from Dorm Decor. Extra seating space AND extra storage—win-win!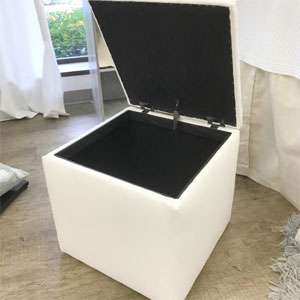 Dorm Decor ottoman $169
Not-Your-Typical Transformer
We are not talking about Optimus Prime here—foldable or stackable furniture is your new best friend! Skip on the traditional bean bags and opt for a convertible floor cushion like this one from Urban Outfitters. The entire squad can have a seat for the movie night. Simply fold it back when you're done.