SHOPS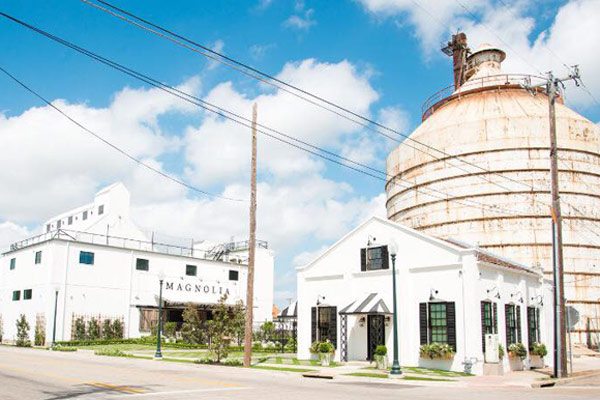 Visit Magnolia Market at the Silos.
This is an obvious must-do for anyone visiting or living in Waco. With shopping, games and a variety of local food trucks, this is the perfect spot to hang with friends, enjoy the sunshine and get that perfect Instagram-worthy picture. Grab a cupcake from the bakery on your way out and keep your eyes peeled for Chip and Jo!
Spice Village is a massive 30,000 square foot space located in downtown Waco. It's home to over 60 vendors and shops selling everything from clothing and accessories to home decor and beauty products. You can literally spend hours getting lost browsing at this one-of-a kind shopping experience!
MUST-EATS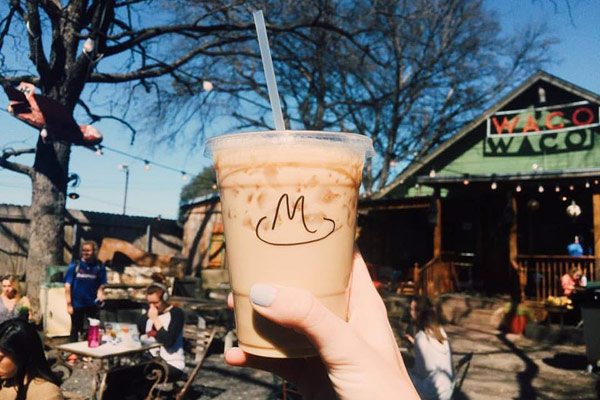 Drink a Cowboy Coffee from Common Grounds.
Common Grounds is another staple for every Waco local. This coffee shop is located right by campus and has a homey, friendly atmosphere perfect for hanging out or studying. Common Grounds also hosts open mic nights and concerts throughout the year—Drew Holcomb & The Neighbors, Penny & Sparrow, and Ben Rector have all paid a visit!
Eat an ice cream sandwich from Pokey O's.
Two fresh baked cookies sandwiched around a scoop of your favorite Blue Bell ice cream flavor…what could be better? This local food truck is a favorite for Baylor students. Tip: follow their Instagram page to see where the truck is parked each day!
Travel to West for late night kolaches from the Czech Stop.
A 20-minute drive from campus, the Czech Stop in West is known for their world-famous kolaches. It's not too pricey, delicious, and open 24/7, making it a great spot for a late night snack after a long night at the library.
CITY SITES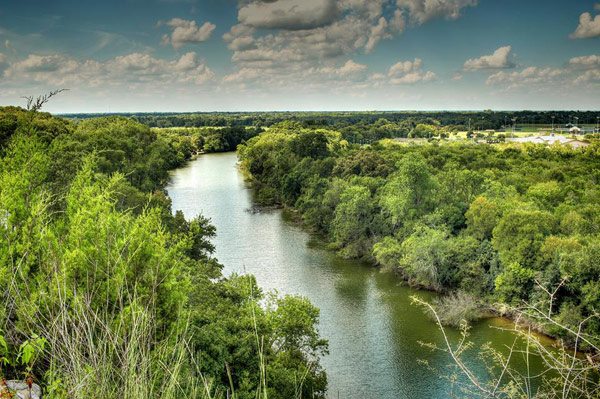 Soak up the breathtaking views overlooking the Brazos River atop Lover's Leap, hike up the 100 steps of Jacob's Ladder or lounge in a hammock with a good book. Don't forget to check out the Cameron Park Zoo while you're there, too.
Catch dinner and a movie at the historic Waco Hippodrome.
Originally built in 1913, the Hippodrome is one of the oldest and most beautiful buildings in the city. They have a full service bar and restaurant overlooking downtown Waco (as well as an in-theatre dining option), and offer a variety of movies, concerts and theatrical performances throughout the year. It's perfect for a fun date night!
Go "tortilla tossing."
It sounds strange, but it's not uncommon to pass by the Waco Suspension Bridge and see a group of students throwing tortillas off towards two concrete blocks near the bridge. Legend has it that if your tortilla lands on a block, you'll meet your future spouse at Baylor. #RingBySpring
Spend a Saturday morning at the Waco Farmer's Market.
Arguably the best breakfast tacos and coffee in town, the WFM is a and local favorite to pick up some fresh produce and support local business owners in the community. It's also dog-friendly, so bring your furry friends!
BAYLOR BEAR MUSTS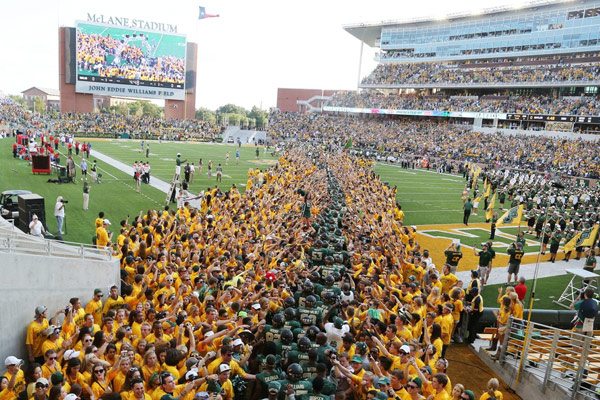 The Baylor line is a favorite Baylor tradition of many students and alumni, and it's always the highlight of home football games! The Line is composed of incoming freshmen who run across the field before kickoff to form a human tunnel for the football players to run through. Even better than this is getting to run the Line one last time as a senior during the last home game!
Attend (or participate in) All-University Sing.
This Baylor tradition occurs every spring semester with student organizations competing with 7-minute, Broadway-style productions. The top eight acts advance to Pigskin Revue in the fall semester to perform again during Homecoming week. This is a must-see event that will have you singing and dancing in your seat!
Located on the Brazos River and completely free to students, the marina offers kayaks, canoes, paddle boards, and sailboats. They also have a picnic area and a sand volleyball court for those who prefer dry land. Bonus: paddle down the Brazos at sunset for the best waterfront view of the beautiful McLane Stadium!
Enjoy a Dr Pepper float at the weekly Dr Pepper Hour.
Originally created in Waco and now the official drink of Baylor University, Dr Pepper is a big deal around campus. This delicious tradition is held every Tuesday on campus and allows for a nice refreshing break between classes to socialize with friends and satisfy your sweet tooth.
Diadeloso is an official Baylor holiday—a full day off from all classes where students and faculty are encouraged to spend time relaxing with friends or participating in free events and activities held on and around campus. Food trucks, live music and shows and even an exotic petting zoo are some of the favorite attractions.