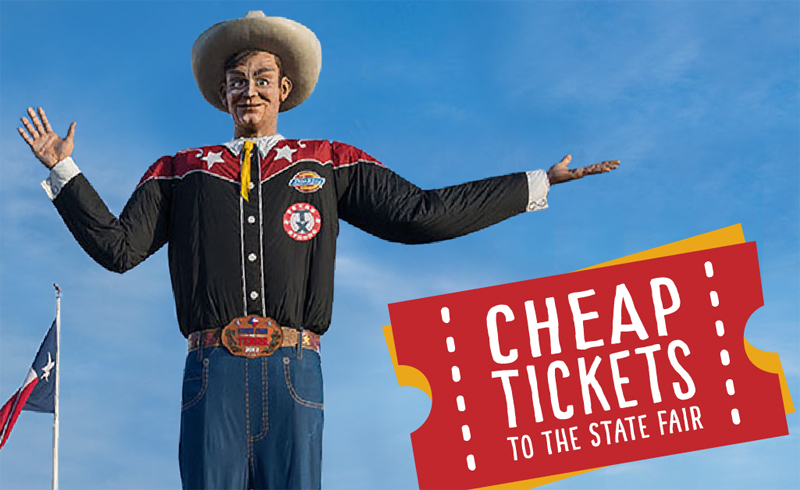 A Texas Tradition at an Affordable Price
It's back! The 2018 State Fair of Texas runs Sept. 28th – Oct. 21st. For many, the State Fair is a must-see. Tickets to the fair are $14 for seniors (60+) and kids (under 48 in. tall) and $18 for general admission, but why pay full price when you don't have to? We've found some shortcuts and tips to knock off a few dollars on admission so you can spend more money on all the corny dogs and funnel cake you can handle. Check them out!
Tickets are only $9 if you go on Opening Day when you bring a full 20 oz. unopened Dasani water or Coca-Cola product to be donated to the North Texas Food Bank.
Buy your ticket in advance on BigTex.com and receive a $1.50 discount on each ticket.
Purchase your tickets through DART's GoPass App and save $2 on each ticket.
Next time you are grocery shopping at Kroger, purchase your general admission tickets at the check-out counter to save $1.50 on each ticket.
Is it a family affair? Purchase the Ultimate Family 4-Pack to save $23 on admission.
Military Appreciation Day is on Opening Day. Free admission for all retired and active military with military ID. Your spouse and children under 18 can get the same deal, just be sure to bring your military spouse ID.
If you plan on going to the fair more than once, it's more affordable to get a season pass.
Going with a group of friends? Buy in bulk! Discounts begin for groups of 20+ people and tickets are discounted down to $10 each.
The next time you stop at McDonald's, make sure you check out the tray liner for a State Fair coupon.
Not a fan of weekend crowds? If you go any weekday after 5pm, you can bring an empty Dr. Pepper can to receive half-off admission.
Speaking of weekdays, admission is only $9 on Tuesdays when you bring an empty Dr. Pepper can, $4 on Wednesdays when you bring four canned goods to donate to North Texas Food Bank, and $9 on Thursdays when you bring a 20oz bottle of any Coca-Cola product.
Attendees 60 years or older receive free entry into the fair every Thursday.
Friday, October 12th is First Responders Day, which means free admission for public law enforcement, paramedics and firefighters. Don't forget your badge or ID.
Click here for more information on the State Fair of Texas.