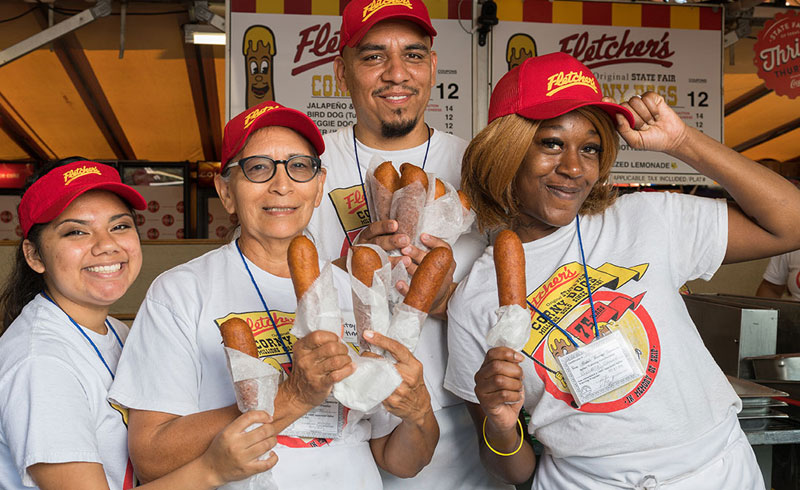 It goes without saying that state fair food is one of the most talked about topics in Texas come September, and we've got a list of the new menu items debuting this year. Pro tip: wear stretchy pants because you're going to want to try EVERYTHING.
1. Corn Dog Ale: Perfect for when you are hungry and thirsty at the same time, the Corn Dog Ale is an amber ale with a combination of subtle smokiness and spices that evoke the flavor and aroma of a classic, delicious corn dog. To top it off, this unique drink is served with a yellow-mustard rim to complete the flavor experience.
2. Fried Cup of Corn "Elotes": An authentic Mexican dish with a state fair twist. The Fried Cup of Corn "Elotes" will cause your mouth to have a taste bud explosion. Make sure to dip it the creamy corn dip for the full experience.
3. Supra Stuffed Mini Sopapillas: The State Fair took the delicious Sopapilla to the next level (are we even shocked?) by stuffing it with strawberry cream cheese. To make it even better, it is dusted with cinnamon and sugar and drizzled with honey.
4. KOOL-AID® PICKLE-DILLY SANGRIA: For adults who are still a kid at heart, this is the drink for you. This refreshing new twist on everyday favorites is the perfect mix sweet and sour filled with lots of fruit.
5. KING CRISPY COCONUT CRAB SLIDERS: We consider this one the king of state fair foods. Who wouldn't love deep fried soft shell crab dipped in homemade coconut batter served on a King's Hawaiian bun? (Yes, I know we're drooling)
6. Pico Frito: The Pico Frito is the mexican version of an egg roll. Pico De Gallo is rolled in an egg wrapper and fried until golden brown.
7. Bacon Brittle: For all the bacon lovers out there, the new bacon brittle is the a glorious twist on the southern classic. Thick cut applewood smoked bacon is flavored with a hint of bourbon to create a smoky, sweet and salty flavor with a soft crunchy texture from the brittle.
8. Fletcher's Cheezy Pup: Fletcher's took their famous batter and deep fried it with American cheese to create this mind-blowing invention. Fried cheese on a stick? I'm in.
9. Texas Thai Delight: You get the best of both worlds with the Texas Thai Delight. Coconut and mango infused sticky rice is transformed texas style by being deep fried and placed on a stick.
10. Orange Julia's Beermosa: If you can still remember the jingle of the ice cream man coming down the street, then you will enjoy this new drink. Orange Julia's Beermosa starts with champagne that is flavored with orange Pixy Stix, Blue Moon® beer, and the perfect amount of vanilla ice cream that smoothes it all together into the perfect creamy cocktail that tastes like Push-Up® pops and Creamsicle® bars.
Check out the full list of other new foods including Fruity Dessert Nachos and Frosty's Frozen Hot Chocolate here.