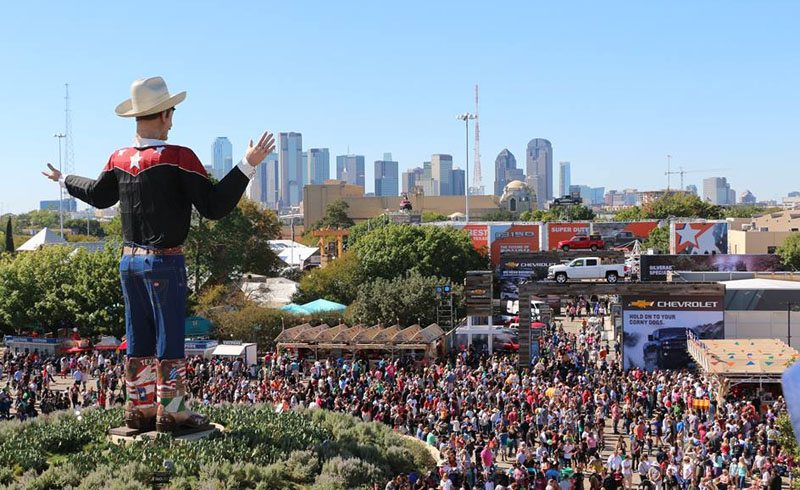 It goes without saying that state fair food is one of the most talked about topics in Texas come September, and we've got a list of the new menu items debuting this year. Pro tip: wear stretchy pants because you're going to want to try EVERYTHING.
Funnel Cake Bacon Queso Burger: Winner of the Big Tex Choice Award for Best Savory Taste and Most Creative. You can't go wrong with a burger topped with queso and bacon that has funnel cakes as buns.
Gulf Coast Fish Bowl: Winner of the Big Tex Choice Award for Best Sweet Taste, this drink is meant for the over-21 crowd that wants to embrace their days as a kid with Swedish Fish and Nerds candy.
Deep Fried Chicken Noodle Soup on a Stick: Not meant for days when you are under-the-weather, however it is still served with a few crackers and warm broth for dipping.
Deep Fried Froot Loops: Skip breakfast and try this new way to eat Froot Loops—mixed with marshmallow, dipped in batter, fried and topped with glaze and powdered sugar.
Fat Smooth: While we don't fully understand the name, we do know that these fried Belgium mini cream puffs on a stick (because it's the fair, duh) sound amazing, especially with the powdered sugar, chocolate and caramel sauce.
Fernie's Fried Texas Sheet Cake: End your day with this decadent dessert consisting of chocolate brownie cake coated with cocoa puffs, panko and cinnamon sugar, then fried and glazed with icing and topped with Texas pecans, whipped cream and a strawberry. Are we the only ones drooling?
Pinot Noir Popcorn: for all the wine-o's, the fair just got a whole lot better. Try some of this wine-flavored popcorn perfectly paired with cheddar cheese flavors so you can have some cheese with your wine.
Surfin' Turfin' Tator Boat: Just what you'd expect, this baked potato is stuffed with lobster meat, seasoned steak, garlic butter, cheddar and Romano cheeses and then topped with an empress cut lobster claw and served with a side of lemon butter.
Texas Fajita Fries: Every Texan can go for good fajitas, and at the fair you can get fajita beef strips fried and on the go in a bread cone with Texas toothpicks (fried onions and jalapenos) served with a side of pico de gallo and a sour cream guacamole hot sauce.
The Tamale Donut: Take the makings of a tamale and form it into the shape of a donut, fry it and top it with homemade creamy jalapeno salsa and you've got the Tamale Donut.
Check out the full list of other new foods including Deep Fried Bacon Wrapped Mozzarella Cheese and Oreo Beer here.