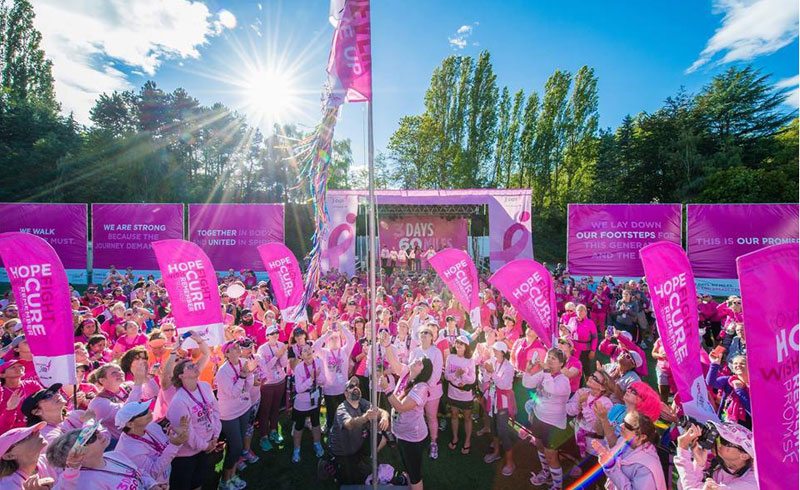 How You Can Join the Fight against Breast Cancer
Thousands of women are affected by breast cancer every day, personally or through a loved one. Although the statistics can be overwhelming, you can help! October is deemed Breast Cancer Awareness month and countless businesses and organizations join efforts to raise funds and awareness for the cause. Take part in any of the give-back events in your community and make a difference while enjoying your local neighborhoods.
ALLEN
Shop, Support & Save, September 29-October 31

Make a $10 donation to the Susan G. Komen Foundation and receive 25% of one item at participating Allen Premium Outlet retailers.
AUSTIN
Pickled Pink– Ladies Night, October 5

What better way to support your best gals by enjoying a night of pickleball with your fave ladies. If that's not enough incentive, there will be wine and cheese (served by fellas dressed in pink), a massage therapist, and giveaways! Dress in your pinkest active wear and declare a girls' pickleball night in support of the Susan G. Komen Foundation.
BEAUMONT
50 Shades of Pink, October 14

Honor your loved ones affected by breast cancer at the first ever 50 Shades of Pink Gala Dinner. There will be a silent auction and a professional photographer. A percentage of the gala's proceeds will benefit the Beauty Beyond Breast Cancer organization.
DALLAS
Dallas Cowboys Breast Cancer Awareness Game, October 8

Cheer on America's team as the Cowboys raise awareness for breast cancer. Pink uniform details will be worn by players, coaches, and cheerleaders. Forget the hot dog and bathroom break; you'll want to stay in your seat for the halftime show! There will be a special performance with more than 250 breast cancer survivors and co-survivors forming two huge pink awareness ribbons. It will be a game to remember.

West Village Block Party, October 9

Shop 'till you drop for a cause! Many of the stores in the West Village shopping center will be donating 10% of their sales to the Susan G. Komen Foundation Dallas County. Check which stores are participating here.

The Pink Music Festival, October 29

Gather your friends and head to the AT&T Performing Arts Center in downtown Dallas for a night of family-friendly entertainment from Richard Punch the Violinist, Red Wine Band, Paul Rodgers and Natural Change and Emerald City Band. Proceeds benefit Susan G. Komen Foundation Dallas County.
FRISCO
Free mammogram screening, October – November

Take advantage of free mammogram screenings at Toyota Stadium throughout October and November.
HOUSTON
Burger Joint Pink Shake, October 1-31

Dinner AND dessert is planned for the month of October. Head over to Burger Joint and indulge in a post-burger Pink Shake, a one-of-a-kind dessert with 20% of proceeds going to Komen Houston.

Annual Komen Houston Golf Classic, October 23

This 4th annual event includes a full day of golf, fun contests, and joining together in support of raising funds for Susan G. Komen breast cancer research and treatment for those battling the disease in Houston and surrounding communities.
MIDLAND
Benefit Luncheon, October 5

Join a special group of ladies for a luncheon benefitting Pink the Basin to provide free mammograms. This event will be hosted by two-time Emmy nominated TV host and breast cancer survivor, Samantha Harris, from Entertainment Tonight.

Saving True Pairs, October 13

Jake's Clays is hosting the 6th annual Sporting Clays event with proceeds going to Pink the Basin for mammograms and breast cancer-related services.
Participating in a Susan G. Komen Race for the Cure run/walk is a fun and active way to join the movement. All proceeds from the races go directly to funding breast cancer screening, treatment, and improving technologies for earlier detection and education. If you'd like to participate in an event closer to your home, find the race date and more info here.
Susan G. Komen's motto is "It all started with a promise." So, promise us you'll do your part. Your involvement can save lives!