Thanks to our girl, Giada DeLaurentiis, we've discovered the cutest turkeys in chocolate form! In about 30 minutes, you can whip up an impressive dessert for your friendsgiving or Thanksgiving Day feast. Grab some Oreos, candy corn, and chocolate chips and you're halfway there to yummy turkey cookies.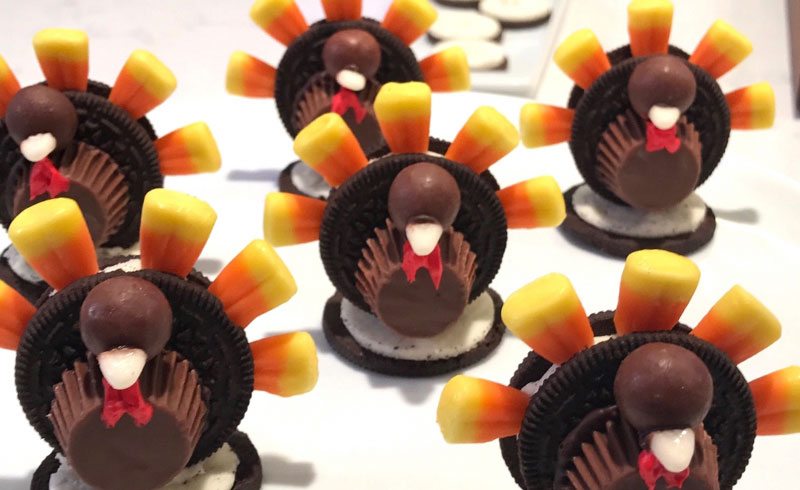 Recipe courtesy of Giada De Laurentiis

INGREDIENTS:
1 cup semisweet chocolate chips
30 candy corn candies, plus 6 white tips of candy corn
6 chocolate sandwich cookies
6 mini peanut butter cups
6 malt balls
1 cup Red Frosting, recipe follows
6 chocolate sandwich cookies with top cookies removed
Red Frosting:
½ stick (1/4 cup) unsalted butter, at room temperature
1 ½ cups powdered sugar
½ teaspoon pure vanilla extract
2 tablespoons whole milk
Red food coloring, as needed
DIRECTIONS:
Place the chocolate chips in a medium stainless steel or glass bowl. Set the bowl over a saucepan of barely simmering water. Cook, stirring occasionally, until the chocolate has melted, about 4 minutes. Set aside to cool slightly.
For each turkey, push 5 candy corn candies, tip-side down, into the cream filling of a chocolate sandwich cookie to make the feathers for the turkey Lay the cookie on a work surface.
Dip the flat, larger end of a peanut butter cup in the melted chocolate allowing any excess chocolate to drip back into the bowl. Place the peanut butter cup, chocolate-dipped end down, onto the sandwich cookie.
Dip a malt ball into the melted chocolate allowing any excess chocolate to drip back into the bowl. Place the malt ball above the peanut butter cup to make the head of the turkey.
Dip the flat end of the white candy corn tip in the chocolate. Place on the malt ball, to make the turkey break. Refrigerate until the chocolate has set, about 10 minutes.
Place the Red frosting in a piping bag. Using scissors, cut a small opening in the end of the piping bag. Pipe a small piece of frosting under the malt ball to make the turkey's beard.
Place a cookie (with top half removed) on a platter. Stand the turkey upright into the cream filling. Repeat with the remaining ingredients.
Red Frosting:
In a medium bowl, using an electric hand mixer, beat the butter until smooth, about 20 seconds. Add the powdered sugar, vanilla extract and milk. Beat on low speed until combined. Increase the speed to high and beat until the mixture is smooth. Color the frosting by mixing in 1 drop of red food coloring at a time until the desired color is reached.